This post brought to you by Fellowes. All opinions are 100% mine.
Like most people, I have a lot of junk paper in my house, but in this age of identity theft, I'm not about to drop my old documents in the trash. Right now, because I don't have any better solution, I save up my old documents and once a year, when I'm headed to go camping, I take the bundle of old receipts and information, and I burn it. I think it might be time to change that process though now after getting details on the latest shredder from Fellowes.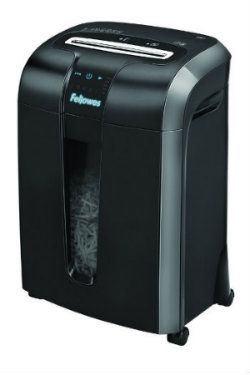 The Fellowes 73Ci is an office-quality shredder that has all the best features if you need to get rid of sensitive documents, and the price tag won't give you sticker shock.
Based on information from Fellowes, the shredder's big features include:
100% Jam Proof System that eliminates paper jams and powers through tough jobs
SafeSense Technology which automatically stops shredding when hands touch the paper opening
A proprietary Energy Savings System which maximizes shredder energy savings 100% of the time – both in use and out of use
Capacitive touch screen controls
Heavy-duty Cross-Cut blades that destroy a single sheet of paper into 397 particles, making it nearly impossible to piece back together
Launched in January this year, the 73Ci retails for $199.99 at office supply stores, and it's made by Fellowes, which was the first company to sell a personal shredder back in 1990.
Since the shredder includes jam-proof technology, I think it's also safe to say this is a major upgrade from just about every other shredder I've ever used. One of my biggest complaints has always been the fact that, if you put just a couple too many pages in a shredder, they tend to jam up.
The price is also very good, especially since my alternative right now is either driving a year's worth of receipts to a bonfire, or picking up a cheap model shredder that probably won't last a year, and will jam if I add in one sheet too many.
So, what do you think of the Fellowes 73Ci, and which of the features interest you the most?
Join our list
Subscribe to our mailing list and get weekly updates on our latest contests, interviews, and reviews.